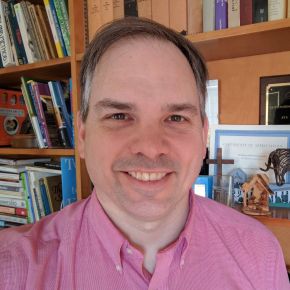 Steve officially starts with the Presbytery of Northeast NJ on June 1st. Emails sent using this form will go to Liz in the office for assistance before then.
Steve Huston is a Teaching Elder whose leadership is shaped by his experience in a variety of Presbyterian Churches and denominational ministries. As a child and youth, he was nurtured at Kirk of the Hills Presbyterian Church in Tulsa, Oklahoma. Steve's parents were actively involved in many areas of the church but it was their involvement in the Presbyterian Mariners that gave him his first encounter with the larger church. It was at a Mariners' Family Camp that he learned about the Presbyterian Youth Triennium, which he would attend twice as a youth participant and later as an adult leader. 
When Steve left Oklahoma to study Judaic Studies at Brown University, he was taken in by the pastor of Providence Presbyterian Church, a multi-ethnic congregation in Providence, Rhode Island. This was a dramatic change from the homogenous congregation he grew up in, and it allowed him to experience the rich diversity of being Presbyterian. That experience would ultimately change the direction of his ministry as he focused on developing both local and international mission partnerships. In his 23 years of community ministry, Steve has helped create a Neighborhood Development Corporation, served with the Boys and Girls Club, Rotary, and the Group Workcamps Foundation. Internationally, he has assisted with developing partnerships in Guatemala, Brazil, and Tajikistan. In addition to these efforts, Steve has also worked as an advocate for human rights and social justice.
Steve believes that his calling has always been to people and not to institutions. For Steve, a Presbytery is about serving people who serve their communities.
Steve lives in Mahwah, NJ with his wife Heather, and will have two children attending college in the Fall of 2021, Julia and Harrison.
---
To contact Rev. Steve Huston, Presbytery Co-Leader/Resource Presbyter
please use the form below.
Or call: (201) 599-1111